Bris & Mohel Services
Circumcision is a sacred ritual for many cultures, religions, and nations.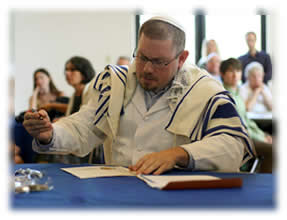 Dr. Witz is a certified mohel. Berit Mila, or bris (an act of Jewish tradition signifying Covenant, incorporating circumcision, and giving a child his Hebrew name), is a sacred and beautiful ceremony welcoming your son into his home, family, and community. For girls, Berit Bat, or naming ceremonies, are also performed.
Personalized services are performed in the office as well as in homes, community centers, and synagogues in the Greater Seattle area. In preparation, we will educate you about the details of the ceremony and listen to your requests to make the event a special moment for your family. As part of his services, Dr. Witz also will craft your son's own unique certificate of Berit Mila.
We accommodate multiples and infants with special needs. Sometimes a bris needs to be delayed for medical reasons. Dr. Witz works closely with local pediatric urologists and surgeons and can perform ceremonial blessings in the operating room.
Congregations that have utilized Dr. Witz include Congregation Kol Ami, The Kavana, Temple B'nai Torah, Temple de Hirsch Sinai, Temple Kol HaNeshamah, Herzl-Ner Tamid, Hillel, and Congregation Beth Israel of Walla Walla. Dr. Witz has co-officiated ceremonies with Rabbis Glickman, Latz, Laytner, Rosenbaum, Hayon, Mirel, Kinberg, Goldstein, Fine, Nussbaum, Septimus, Meyer, Weiner, Cohen, and Weiss, as well as with Cantor Serkin-Poole and Cantor Kurland. Families need not be affiliated with a synagogue for services to be provided.
Additionally, Dr. Witz assists those converting to Judaism. A hatafat dam brit ceremony is available in a professional, private office setting. Certified documentation will be provided for your rabbi or bet din.
Please call (206) 232-0963 for more details about mohel services offered.
Dr. Witz was featured in an article in The Jewish Transcript.
Our office can provide references and other resources upon request.