Newborn Circumcision
The Northwest's only infant circumcision clinic of its kind...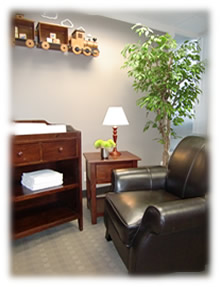 Each year, over 1,500 families choose Dr. Witz to perform their son's circumcision. This is an important decision, so Dr. Witz recommends that the procedure be done shortly after your child has been discharged from the hospital. Dr.Witz sees infants from 1-7 weeks of age, premature infants, and infants with special needs.
At NEWBORN MD, Dr. Witz offers his precision and expertise in a relaxing, baby-friendly setting. We have comfortable rooms where you can nurse and feed your baby, and you shouldn't feel rushed, since parking is free.
The procedure itself only takes 10 minutes, but please allow 90 minutes for your visit to give yourself time to speak with Dr. Witz and to review the aftercare instructions. We also want you to have ample time to feed your baby after the procedure.
Dr. Witz's assistant has over 20 years of pediatric experience. She is always very helpful and sensitive when assisting parents with their babies' needs.
Your child's safety is of the utmost importance. Dr. Witz follows the most current American Academy of Pediatrics' and CDC's guidelines for circumcision and always uses the most effective pain-control techniques. The highest standards are maintained for quality and infection control. The office provides a clean, tranquil, and private setting for your son's procedure. Additionally, your newborn is not exposed to sick children. Surgical instruments are meticulously maintained on site by our own trained staff.